THE WAR OF INDEPENDENCE: PESHAWAR, AUG. 28, 1857
Reports were reaching the officers that arms locally made were being purchased and probably secreted in the Lines; the 27th N.I. and 51st N.I. were suspected most. On 28 August, an order was issued that the sepoys were to move out into tents on the plain and precautions were also taken by their officers to meet resistance in case it was offered. About the midday when the work of search was still going on, the sepoys posted at quarterguard in the Lines of 51st N.I. made a sudden rush on Captain Barlett who was supervising the operations.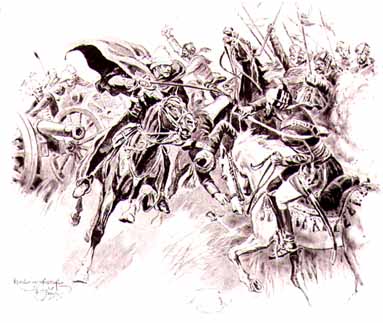 This led to the rising of the entire Regiment, "with a whirr like a covey of partridges", to use the Captain's expression. Then followed a brief but contested action in which "the sepoys fought well". They were, however, overpowered by the enemy who had the advantage of superior arms and equipment, and then began that memorable fusilade which commenced on the parade at Peshawar, and ended at Jumrood. The losses of the sepoys were heavy; 660 out of a total of 871 were either "killed in the pursuit or subsequently executed by sentence of court martial".