BATTLE OF PAKISTAN: DECEMBER, 1971 A.D.
BATTLE OF PAKISTAN: DECEMBER, 1971 A.D.
Born in Dinga, Gujrat district, on April 4, 1938, Major Muhammad Akram was commissioned in the Pakistan Army on October 13, 1963 and posted to the Frontier Force Regiment. On July 7, 1968, he was posted to the then East Pakistan where hw commanded a company of 4 FF Regiment. When war broke out in 1971, he was in command of the company in the forward area .in Hilli district which was the focal point of concentrated Indian pressure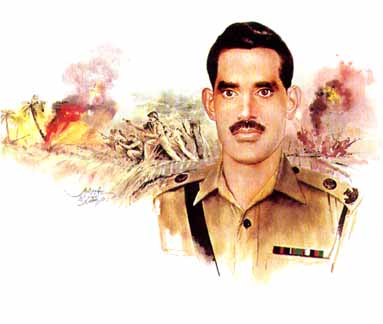 Subjected to incessant air, artillery and armour attacks, Major Akram's company withstood every assault and did not concede even an inch of Pakistan territory, although on one occasion the enemy mounted a major attack by a full brigade supported by a squadron of tanks to breakthrough our defence and make way for his 20th Mountain Division. But, despite enemy superiority, both in number and fire power, Major Akram and his men repulsed every attack for a whole fortnight, inflicting heavy casualties on the enemy. The heroic resistance put up by him in the face of a virtual firestorm demonstrated his exemplary courage and unwavering determination to fight to the bitter end. Major Akram died in action during this epic battle leaving behind the legend of his supreme sacrifice in the execution of a valiant mission. Major Muhammad Akram Shaheed was awarded the highest gallantry award, Nishan-e-Haider, for putting his heroic resistance to the enemy.