THE WAR OF INDEPENDENCE: GUGERA, SEP. 1857 A.D.
THE WAR OF INDEPENDENCE: GUGERA, SEP. 1857 A.D.
Gugera lies on the commercially important route which connects Lahore with Multan and also Sind and Bombay. Precautionary steps were taken by the local authorities as soon as the news of the outbreak of the Revolution had reached them. Despite precaution, the prisoners rose in Revolution on 26 July but savage measures were taken to control them, 51 prisoners were killed and wounded. Ahmad Khan Khurrul, the Chief Leader of the Revolutionaries in this area, was kept under surveillance for sometime and then released.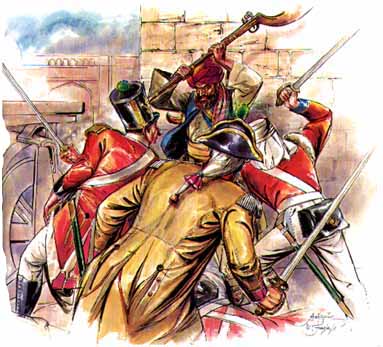 The authorities believed that they had crushed the Revolutionaries and secured the region but they were greatly mistaken. Ahmad Khan was a man of courage and determinaton; had contacts with the Revolutionary leaders at Delhi and other places and even with the Emperor. The Khurruls led by Ahmad Khan rose on 16 September, were soon joined by a number of people and, in a short time, entire region was in the grip of the Revolution. Ahmad Khan came up with the British forces at a place not far from Gugera. A severe fight ensued; Ahmad Khan and his followers fought bravely and Captain Black and Lt. Chichester were surrounded during the melee. Both sides suffered heavy losses. The Revolutionaries were dispersed but only to fall upon Berkley's forces on the following day, near the bank of the river. Berkley was defeated and slain in the action along with more than fifty of his men. The Revolutionaries continued the struggle and seized the Tehsil of Harrappa and Sarai of Chichawatni. On 23 September , soon after night fall the Revolutionaries attacked the British force and Chamberlain did not have the courage to risk a sortie, for, he feared, it would involve heavy loss of life. Chamberlain sent messages for reinforcements and decided to wait for them.