INDEPENDENCE OF INDONESIA :
INDEPENDENCE OF INDONESIA : PROCLAMATION: AUG. 17, 1945 A.D. SOVEREIGNTY: DEC. 27, 1949 A.D.
Muslim ambassador of Samudra state visited China in 1282 while Marco Polo also found Islam in South East Asia when he visited Samudra in 1292. Its ruler al-Malik al-Zahir had received Ibn Battuta in 1345-6. Soon the Islam spread to Sumatra, Java, Borneo, Sulu Archipelago and Muluccas. Netherlands' East India Company was trading in 17th century and Britishers also penetrated and occupied Java in 1811. Europeans started trade and then they began the .domination of straits which encountered with Muslim resistance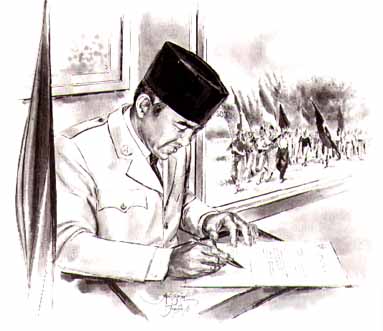 19th century had witnessed repeated and powerful commotion among the Muslim community in islands especially those under Dutch possession. Worsening economic conditions and increasing labour strikes in 1922 prompted the imposition of restrictions on civil liberties and amendments in the colonial constitutional law and penal codes. Japanese occupied the straits during the Second World War which ended with the end of War. Ir. Soekarno and Dr. Mohammad Hatta proclaimed Indonesia's independence on 17th August, 1945. Several months elapsed before the Netherlands returned in strength to their former colonial domain. Protracted Indonesian-Dutch negotiations were twice interrupted by the Dutch military action of 1947-48-49. The determined Indonesian opposition, including widespread guerilla warfare, combined with outside diplomatic pressure exerted upon the Netherlands, finally led to the transfer of sovereignty to an Indonesian federal state in December, 1949.