CONQUEST OF VENICE: 1478 A.D.
CONQUEST OF VENICE: 1478 A.D.
The attempt at establishing undivided rule over the Balkans brought, Mehmed the conqueror, into conflict with Hungary across the Danube, and with Venice in Albania, Greece and the Aegean Sea. The papacy tried to lead the whole of Europe on a crusade in support of these two states. Mehmed led two expeditions into Serbia in 1454 and 1455 and succeeded in making Serbia more firmly a part of the Ottoman Empire. He failed, however, to defeat the Hungarians at Balgrade (1456). In the Morea a violent struggle developed between two princes. The Conqueror succeeded in occupying the Morea.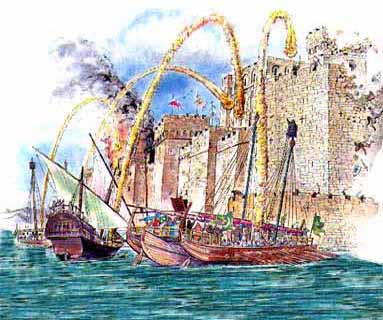 Nevertheless, the Venetians kept a foothold in the fortresses of Nauplia, Modon and Coron, which were built in inaccessible coastal fastnesses, and could be supplied by sea. They held the isthmus of Corinth and occupied the penisula. The Ottomans then declared war on the Venetians, which lasted from 1463 to1479. Mehmed besieged the castle of Scutari in 1474 and 1478. Ottoman akinji crossed the Isonzo and appeared in sight of Venice. The republic sued for peace. The peace treaty surrendered Scutari, Croia, and the islands of Lemnos and Euboea (Negroponte) to the Ottomans, and provided for the payment of an annual tribute of 10,000 gold pieces. Freedom to trade, however, restored to Venice.