INDEPENDENCE OF SUDAN: JANUARY 1, 1956 A.D.
INDEPENDENCE OF SUDAN: JANUARY 1, 1956 A.D.
From 1851 onwards, European and Ottoman merchants poured into the riverain areas of the Upper Nile, in search of ivory. Their uncontrolled interruption had two evil consequences; the disintegration of tribal society, and the extension of the slave trade to new areas. Khedive Ismail (1863-79) was ruling. British Governor General, General Gordon was appointed in 1877. Ismail was deposed and Gordon resigned in1879. Muhammad Ahmad Mehdi emerged as ruler. The reconquest, was planned and directed by Sir Herbert Kitchener, then Serdar of the Egyptian army, who recaptured Dongola province in 1898.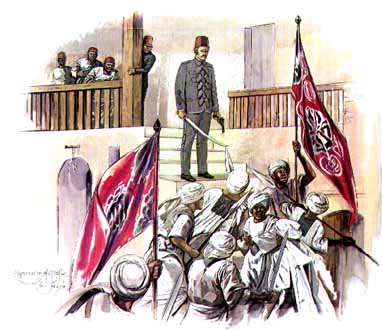 The status of the reconquered territories was determined by a convention concluded between Britain and Egypt in January, 1899, drafted by British Agent Lord Cromer, wholly in accordance with British policy. Its principal purpose was to exclude from the Sudan both international institution and the authority of the Egyptian Government. The Sudan formally made a condominium under joint British and Egyptian rule. Governor General's Council was constituted in 1910. The Second World War saw the beginning of the new political development and nationalist feelings. Ismail al-Azhari became the most popular and formidable of Sudanese politicians. The Sudan Government promulgated a Self-Government Statute in April 1952. The new parliament met in January 1954 and al-Azhari, the leader of National Party, became its Prime Minister. The Sudanization of the army, police and civil service proceeded rapidly and withdrawal of Britain. The Parliament took more measures which made al-Azhari to proclaim Sudan an independent republic on New Year Day--1956.