PINNACLE OF TURKISH SULTANATE: 1520-1566 A.D.
PINNACLE OF TURKISH SULTANATE: 1520-1566 A.D.
Sultan Sulaiman succeeded his father in 1520, who was the greatest of the Ottoman Sultans. He was a statesman courted by every monarch ruler, who made the Turkish Navy the mistress of the Mediterranean, and for the glory of his court, for his power and splendour, he is known to European history as Sulaiman, the Magnificent.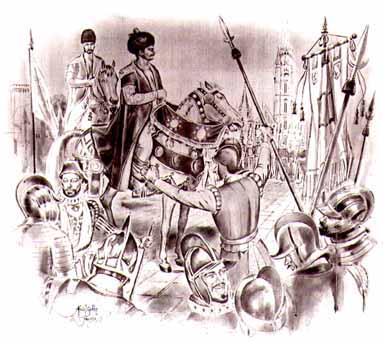 He went up to the walls of Vienna and returned only after the ruler of Austria accepted to pay tribute. He reformed the Turkish laws and is known in Turkish history as the ' Law Giver '. His portrait hangs today among the ten great lawmakers of the world in the gallery of U.S. Senate. In three continents, the Sultan held unchallenged sway over vast territories. A skilled and highly organised bureaucracy, the most advanced form of administrative organisation of the day, secured for the people of the Empire peace, justice and prosperity.