THE WAR OF INDEPENDENCE: NARINJI, JULY 2, 1857 A.D.
THE WAR OF INDEPENDENCE: NARINJI, JULY 2, 1857 A.D.
Narinji is the mountainous village, strongly situated even for the police to dare going near it. Mawlawi Inayat Ali had been preaching Jihad in the neighbouring area for some time, and a number of people had come under his influence, including the Khan of Panjtar, Muqarrab Khan. The Khan sent a small party of the Revolutionaries, under the command of his cousin, Mir Baz Khan towards Mardan which was attacked by British force from Mardan, Major Vaughan, Commander of the Mardan fort fell upon the tiny group of the Revolutionaries on 2 July and overwhelmed them, killing Mir Baz Khan and other leaders. Jan Muhammad Khan and Malik Zarif were taken prisoners and hanged; two villages were totally burnt and some were put to fire.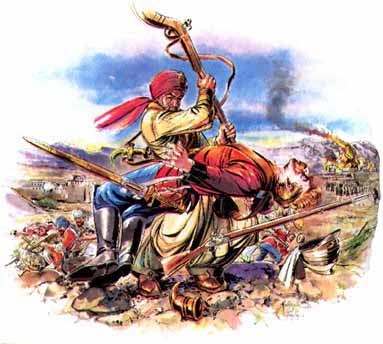 On July 21, Captain James attacked this small hamlet of 400 souls of the Revolutionaries at Narinji with a strong force and took its occupants completely by surprise. Nevertheless they put up a determined resistance, 'a few minutes sufficed to convert each peaceful labourer into an armed soldier and every hut into a fortress; out rushed several Ghazees but they were quickly cut down by the 2nd Cavalry; and the lower part of the village was soon mastered and set on fire; but the remainder still held out desperately'. Inspite of superior numbers and equipment the British forces had to fall back on Sewa. They did not find themselves strong enough to renew attack and waited for reinforcements from Peshawar, which reached on August 2.