THE WAR OF INDEPENDENCE: DELHI, MAY 11, 1857 A.D.
THE WAR OF INDEPENDENCE: DELHI, MAY 11, 1857 A.D.
The public crier still prefaced the proclamation of the Company's orders with the words, " People belong to God, the Empire belongs to the Emperor, and the order is from the Company Bahadur "--the Empire did belong to the Emperor, no matter who governed it on his behalf or even against his will. It was, therefore, obvious that the Emperor would always welcome an opportunity of throwing off the yoke of their control. On the morning of 11 May, 1857, he was suddenly disturbed by the shouts of the troopers. The sawars of the 3rd Light Cavalry of Meerut had crossed Jamuna and were addressing the Emperor from below the walls of the Fort for assistance in their fight for the faith.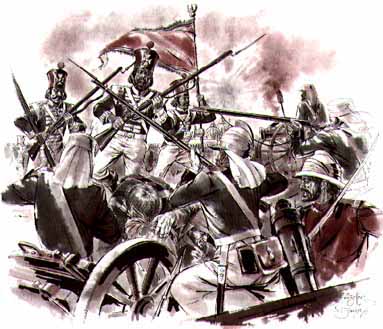 Bahadur Shah who was taken by surprise, told the troopers, that he was mere faqir, passing his days in retirement, and had neither money nor forces to assist them. At last seven troopers found Rajghat Gate of the Fort open and entered. As they rode on, with the cry of ' Din, Din ' they were followed by an excited Muhammadan rabble. On reaching the Sunehri Masid, they killed Doctor Chaman Lal, a Hindu convert to Christianity, which was perhaps the first act of violence. Mughul Beg, an orderly of the Palace Guards, rushed upon Fraser, the Commissioner, and clove his cheek to the bone. The excited crowd now forced their way into the apartments where Doughlas and Hutchinson were killed along with their guests. The sepoys, now nearly fifty in number, forced their way to the Diwan-i-Khas and loudly proclaimed their arrival in these words, " we have come to fight for our religion and to pay our respect to His Majesty ". The Emperor pleaded helplessness, " I have neither troops, magazine or treasury, I am not in a condition to join any one ". The Revolutionaries said, " only give us your countenances we will provided everything ". Then Revolutionaries disbursed to seige the city.