THE WAR OF INDEPENDENCE: MEERUT, MAY 10, 1857 A.D.
THE WAR OF INDEPENDENCE: MEERUT, MAY 10, 1857 A.D.
The orders for the parade were given on 23 April for the following morning, only ninety skrimishers from different troops were to attend. Colonel Smyth was informed by the Havildar-Major that the men of the last troop would not receive the catridges. Smyth was, however, determined to see his orders carried out. The parade was held and catridges were served. They were refused by all except five. ' We would get a bad namel ', the excuse was given. On repeated refusal, the Adjutant was ordered to dismiss the men. An enquiry into the matter was ordered.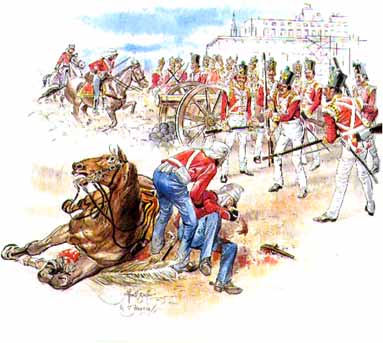 The Judge Advocate-General recommended that all those who had refused to take the catridges should be court-martialled. All of them were found guilty by 14 out of 15 members of the court and were sentenced to imprisonment of ten years with hard labour. The sentence of all the prisoners was carried into effect on the morning of 9 May, 1857. The entire forces stationed at Meerut were already called to witness the parade to be held on the ground. The European troops and Artillery were posted in such a way that the sepoys could be instantaneously shot on the slightest show of insubordination. After the parade the prisoners were escorted to jail, apparently to the satisfaction of the authorities. At half past six, the sepoys of the 20th Regiment of N.I. turned out with arms. The 3rd Regiment of Light Cavalry rushed to the jail, broke the cells and liberated the eighty-five men, along with the other prisoners numbering 1200. Meanwhile the Infantry Regiments had become active, and some of its officers persuaded their men to desists from the course they had taken. Colonel Finnis was addressing his men when a young recruit fired at him wounding his horse, another shot hit him and the Colonel fell dead. This was the signal for general rising of the sepoys which soon spread over almost the whole of the cantonment.