INDEPENDENCE OF MOROCCO: MARCH 2, 1956 A.D.
INDEPENDENCE OF MOROCCO: MARCH 2, 1956 A.D.
Portuguese, taking advantage of the internal upheavals, had seized Arzila in 1471 and they settled at Ceuta, Al-Qasr al-Saghir, Tangier and Arzila. Spain had taken Mediterranean port of Melilla, a base for further operation. European penetration reached to its height in nineteenth century. Sultan signed a treaty with Britain in 1856 giving free trade and abolished monopolies. Beclard Convention of 1863 made France the protector of Morocco which drifted it towards the .dependency. The Makhzan, the central administrative authority, became ineffective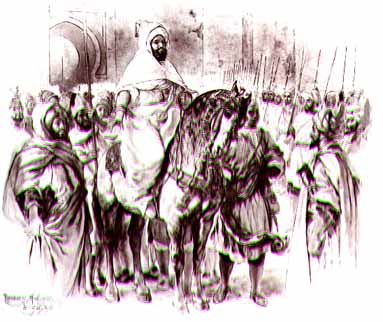 By 1913 Europeans acquired 100,000 hectares. 2,044 Europeans were cultivating 650,000 hectares in 1947. 11,000 Europeans in 1911 had increased to 104,000 in 1926 and 295,000 in 1947 including 200,000 Jews. Trade, industries and cultivation was almost with Europeans. The struggle for independence broke in 1934. Political parties and trade unions were formed. Agitations restored to violence and it resulted in arrest of leaders. Istighlal Party emerged in 1944 by merger to demand independence. The resident Guillaume deployed police force to crush the movement and assumed all powers by deposing the Sultan. The key members of Istighlal were arrested. The liberation army was then put into action and demonstrations and strikes were staged. The protectors then decided to accede to the demand of independence. Sultan was recalled from exile. Muhammad V received a triumphant welcome to Morocco and appointed a government which, on 2nd March, 1956, achieved the independence for Morocco.