THE WAR OF INDEPENDENCE: SIND, SEP. 1857 A.D.
THE WAR OF INDEPENDENCE: SIND, SEP. 1857 A.D.
The results of the work done by the 'missionaries' of the Revolution appeared in the form of the risings of the sepoys Regiments at different places. Karachi took the lead. On 13 September about 11 o'clock in the night Major M'Gregor, the Commanding Officer of the 21st N.I. received information that the Regiment had made plans to rise at midnight, and, after seizing the treasure, it would proceed to Hyderabad. The Horse Artillery took positions in front of the parade ground where the 21st N.I. was disarmed. On the rolls, it was discovered that 27 men had escaped with their muskets.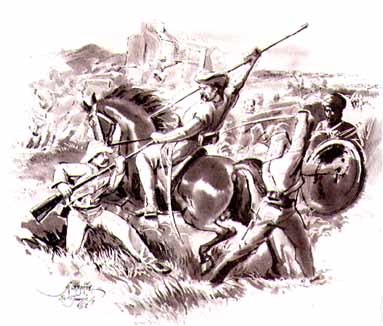 Ten of the Revolutionary sepoys who had escaped were taken captive and tried by a courtmartial. On 17 September, seven were hanged and three blown up by guns. The search for the Revolutionaries was now undertaken on an elaborate scale, 9 were taken on the other side of the Hubb and within the next two or three days more were captured. At Hyderabad, prompt action was taken to secure the Treasury and Pay Office and then ordered the sepoys to assembly for a parade. They were all disarmed, and apparently showed no signs of resentment. In the night, a few of them disappeared but they were captured and blown away with guns. In upper Sind, comparatively nearer to the main centres of the Movement than Karachi and Hyderabad, the workers of the Revolution seem to have achieved better results. Darya Khan, one of their leaders who worked in Jacobabad was also in contact with the sepoys at Shikarpur. The sepoys Artillery rose on the night of 23 September and took their guns to the parade-ground. The rest of the men belonging to the Regiment and others available were brought into action against them; within two hours they were overpowered.