THE WAR OF INDEPENDENCE: SIALKOT, JULY 8, 1857 A.D.
THE WAR OF INDEPENDENCE: SIALKOT, JULY 8, 1857 A.D.
On the night of July 8 the troopers of the 9th Cavalry took necessary steps and established pickets on the main road. It was still dark when the officers were roused from their sleep by the uproar of the rising and learnt that the crisis had come. The officers tried to make for the fort. They were pursued, and a ball from the pistol of a mounted trooper entered the broad back of the Brigadier, and he was carried to the fort only to die. On the parade ground of the 46th, some of the sepoys were more considerate and told their officers to leave the place immediately, who, no other road being open, fled towards Gujranwala.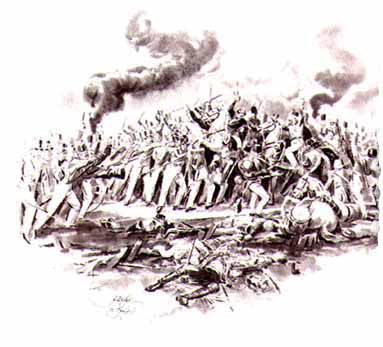 The Revolutionaries had, in the meantime, broken the jail and released the convicts; the kutchery was burnt to ashes and the houses of the Deputy Commissioner and officers plundered. It may be noted that not one of the five churches, for which Sialkot was famous, was damaged. The Revolutionary troops, joined in numbers by the people, now took the road to Hoshiarpur, hoping to meet the men of the 15th N.I. who, they believed, had escaped from Jhelum. The Revolutionaries reached the banks of the Ravi, and were eight miles away from Gurdaspur. When they reached the Trimmu Ghat they found that the boats had been scuttled by the district authorities of Gurdaspur; nevertheless, they crossed the Ravi on the morning of 12 July wading through the water up to their throats. The same day early in the afternoon Nicholson arrived, from Amritsar, within a mile of the river bank, he could see the Revolutionaries actually crossing the river.