DEFENCE OF MYSORE: 1799 A.D.
DEFENCE OF MYSORE: 1799 A.D.
Tippu Sultan was the first prominent leader of Hind-o-Pak to offer resistance to British imperialism and take active steps to liberate the people of the sub-continent from the yoke of foreign domination. He introduced military reforms of far reaching importance, promoted trade and industry and reorganized the civil administration. Tippu was convinced that the first problem of the people of the sub-continent was the expulsion of British. Nizam of Hyderabad Deccan and Marrathas fond his power a challenge to their own existence and allied with British. ۔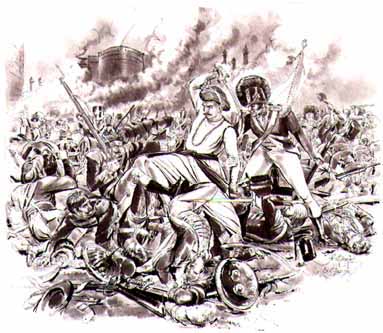 Tippu made efforts to seek assistance from Turkey, Iran, Afghanistan and France but of no avail. In the last Mysore War when the fall of Seringapatam became imminent, he gave resistance to the British besiegers and closed the fortress. The intriguers opened the door on the enemy and a pitched battle was staged in the fort. Gun powder stores caught fire and reduced the resistance. At this, Sultan was advised by the French officer to escape to Chitaldrug and save his life, to which he did not agree. He died fighting in 1799 defending his land from the foreigners.