THE WAR OF INDEPENDENCE: MAY, 1857 A.D.
THE WAR OF INDEPENDENCE: MAY, 1857 A.D.
The attitude of the Sikh States towards the Movement was important; if they had not preferred to cooperate and help the British, the course of the Revolution would have been entirely different. Delhi could not have been recaptured by the British if the line of communications had not been kept open in the Punjab, and the " important service ", was rendered by the Phulian Chiefs. The Revolutionary Government of Delhi had early realized the strategic importance of the territories of the Sikh States, particularly of Patiala. As early as 15 May, 1857, the Emperor had sent a farman to the Maharaja of Patiala. This was followed by several others, because Delhi was fully aware of the help which the British were receiving from these Chiefs.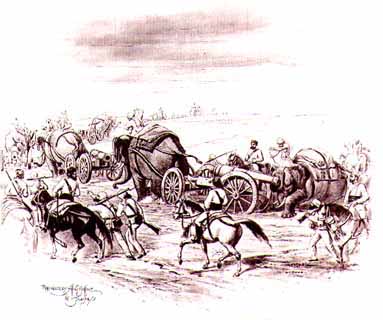 The cooperation of Patiala, Jhind and other Sikh States having been secured and necessary information received from Meerut, the British decided to proceed to Delhi. General Anson decided to assemble his army at Karnal and to enter Baghpat on 5 June and wait there for the arrival a General Hewitt. Anson died on 27 May because of cholera, and was succeeded by Major General Sir Henry Barnard. Barnard got utterly destroyed all the villages which had ill-treated the European fugitives from Delhi. Then they left Karnal on 30 May for Delhi reaching Alipur (ten miles from Delhi) on 5 June and awaited the arrival of the siege train.