THE WAR OF INDEPENDENCE: LAHORE, JULY 30, 1857 A.D.
THE WAR OF INDEPENDENCE: LAHORE, JULY 30, 1857 A.D.
The Regiment posted at Mian Mir (Lahore) had been disarmed in May. On July 30, however, they rose, put to death their commanding officer, Major Spencer and escaped, but instead of proceeding Eastwards to Delhi they took the opposite direction. They were engaged by the Tehsildar of Ajnala and detained at the banks of the river until 31 July, when Frederick Cooper, Deputy Commissioner of Amritsar, arrived on the scene with a small force. The Revolutionaries were in a sorry plight, famished and footsored, on an island, with no means of defence or escape. Some of them surrendered, and some were brought by the villagers who had seized them, when they were trying to escape. In all Cooper had '500 rebel sepoys' bound in ropes and taken to Ajnala.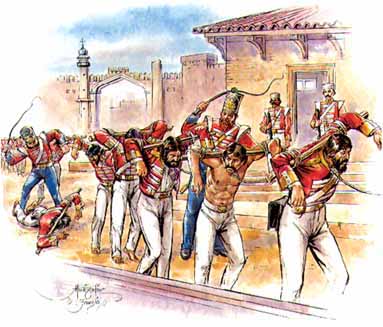 A dry well was discovered for the disposal of the corpses of the Revolutionaries. The 1st of August, being the Eid-ul-Azha, the Muslim horsemen were permitted to return to Amritsar to celebrate the festival; while the single Christians and faithful Sikhs, were retained to perform the different kind of killing. The Revolutionaries on their part demonstrated by their actions that they were conscious of sacrificing their lives for a cause. When 237 of them had thus been put to death, the doors of the bastion were opened to let the prisoners come out. "And behold!", continues Cooper in his account, "they were nearly all dead! Unconsciously , the tragedy of Holvell's Black Hole had been re-enacted".